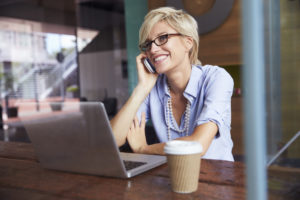 Do you love what you do for a living?  Do you feel you are making a difference through your work?  Are you using your true talents to their fullest?  If you're like most people, your answer is no.  But what is the alternative?
I began working with dissatisfied workers more than 20 years ago.  What motivated me to enter this work was the fact that as many as 90 percent of workers surveyed did not enjoy their work.  And I wanted to contribute to changing that!
At that time, career coaching had not yet been invented.   I have worked hard toward that goal, speaking at over 1500 conferences and other events around the world, writing 25 books on career development and change management, and working with hundreds of individual and corporate clients.  Those I have personally touched have improved their satisfaction.  But there are so many more!  In fact, recent surveys still show that 75 percent of workers are unhappy.  So I began, a few years ago, training others in how to use coaching to assist people in these critical transitions.  If you want to make a difference, to do work that is both satisfying and financially rewarding – and that can even allow you to work from home on your own hours! – then I invite you to review the five principles in this article.
Secret Number 1:  Learn what career coaching is – and is not.
If you're considering entering the field of coaching, you'll want to learn more about it, right?  Coaching is a young industry, started in the late 1980's by the late Thomas Leonard.  In its 25-year history, it has grown exponentially!  Money magazine rates coaching as the second fastest growing profession next to management consulting.  And one of the Entrepreneur magazines listed it as the number 1 home-based business to start.  There are tens of thousands of coaches worldwide, but many times more clients than that.
What's fueling all this growth?  There are a number of appealing aspects to coaching:
Coaches are committed to making a positive difference in the world (something many individuals find lacking in other kinds of work)
There are no extended educational requirements in coaching
Coaches are not regulated by state governments like therapists and health care professionals are; instead, coaches are self-regulated through our professional association, the International Coach Federation ("ICF")
It costs very little to get started
You can work from home, coaching by telephone (which is the primary way 66 percent or more of coaches work)
You can set your own hours
You can make a good living and be profitable within the first year in business if you have a solid plan incorporating some of the principles you read about here.
So what is coaching anyway?  Here's the way it's defined by the ICF:
"ICF defines coaching as partnering with clients in a thought-provoking and creative process that inspires them to maximize their personal and professional potential, which is particularly important in today's uncertain and complex environment. Coaches honor the client as the expert in his or her life and work and believe every client is creative, resourceful and whole. Standing on this foundation, the coach's responsibility is to:
Discover, clarify, and align with what the client wants to achieve
Encourage client self-discovery
Elicit client-generated solutions and strategies
Hold the client responsible and accountable
This process helps clients dramatically improve their outlook on work and life, while improving their leadership skills and unlocking their potential."
Coaching is more results-oriented than counseling (though it does not replace counseling or therapy for treatment of mental illness), and more facilitative than consulting.  It focuses on the present and future, rather than dissecting one's past as a therapist might.  One simple way to think of it:  an effective consultant gives his/her client the right answers; an effective coach asks his/her client the right questions.
How does the niche of career coaching fit here?
Career coaching is one of many specialties within coaching, and is drawing increasing numbers of people because of its many advantages:
Career coaching is financially stable. We might even say it's recession-proof:  there is a need for it in any economy because people are frequently changing jobs – or wanting to!
Career coaching has tangible results (e.g., client is offered and takes a new job, client successfully defines his/her job/career goal, client receives resume and/or job search marketing plan); therefore, clients are more likely to invest in it over the "softer" specialties of coaching such as life coaching and spiritual coaching
Career coaches can work for themselves or for a corporation (coaching the staff), for an outplacement firm, or for a college career center, thus providing more job/work opportunities.
There is a wide spectrum of issues available for career coaching, from clarifying career goals to the mechanics of resume design, interview coaching, etc., allowing the individual coach to do whichever kind of work fulfills him/her – or to have a wide variety of activities.
Career coaching nicely complements speaking, training, writing, and other similar activities and can provide a value-add to existing clients of such professionals.
Career coaching is defined as: Career coaching is an interactive process of exploring work-related issues— leading to effective action—in which the coach acts as both a catalyst and facilitator of individual and, in turn, organizational development and transformation.
The coaching industry as a whole is positioned for continued growth, and in the current strengthening economic cycle, the opportunities and demand for career coaching are projected to increase exponentially.
So if you are looking for a profession that allows you to help others, to make a positive contribution, and that complements other skills you may already be using, career coaching may be just what you were looking for!
Secret number 2:  Discover the traits of successful coaches.
Successful coaches share three types of traits and qualities that make them effective and attract clients to them.
First, from the client standpoint (and these can be learned), coaches should have/be:
Relevant background, experience, client list
Credentials/certification (e.g., coach training certification)
Be a great listener: to what is said but also unsaid
Able to tailor approach to client style
Not have their own agenda
Experience in job market, industry
Be results-oriented, keep client accountable
Have current knowledge of trends, opportunities
Have tools to clarify values, goals
Use assessments appropriately
Be able to motivate me, provide support and confidence
Be creative in their approach
Be able to reduce search time
Be nondirective, facilitative
Have workable job search strategies
The second set of skills are the entrepreneurial traits for success (as a general rule, these can't be learned, they must be inborn):

Achievement oriented (intrinsically motivated by taking tangible steps toward their goals)
Passionate about their work (it's contagious!)
Self-directed (able to set priorities and follow through)
Willing to take calculated risks
Works well with people
Finally, the independent coach must have business skills – these can be learned! Areas to learn/know include marketing, business planning, budgeting, internet, staffing, etc., as well as coaching of course!
Traits for in-house/corporate coaches would include many of the above, but would also include need for affiliation, team player, and the like, and less independence, as well as knowledge of organizational dynamics.
Secret number 3:  Realize that you are entering a business, not a hobby. 
The coaching industry as a whole is going through some predictable growing pains right now.  Many people thought that they could become a coach with little training, and it would be "fun" to help other people, so they got on the bandwagon.  But they didn't have the business skills or the entrepreneurial traits listed in sections b and c of the previous section.  The result?  Many of them didn't make a living as coaches.
If you are going to be successful as a coach, you must realize that you are starting a business.  There are at least two aspects to approaching coaching as a business:
Planning:  As a new business, you need to have a business plan, a marketing plan, and all of the other trappings of any other business (except, possibly, the need for downtown office space, since most coaches work from a home-based office via telephone).
Professionalism:  If you are evaluating a new doctor, attorney, or accountant to see if you want to work with him/her, don't you notice the office, how they handle their phone and email, quality of printed materials and web site, and so on?  We all do – and your clients will too!  So be sure that as you begin your practice, it absolutely exudes professionalism in every aspect.
Secret number 4:  Decide if coaching is a good fit for you, and what you will specialize in.
Not everyone is suited to being a coach!  Whether you want to bring coaching into your management style or start your own business as a coach, it is important to see if you have what it takes.
Also critical to evaluate is what your specialty will be.  Here are just a few types of coaching you could choose:
Corporate coach
Personal coach
Human resource coach
Sales coach
Career coach
Marketing coach
Relationship coach
Parenting coach
Team coach
Transition coach
Nutrition coach
Fitness coach
Wellness coach
Creativity coach
Book coach
Financial coach
Success coach
Spiritual coach
Executive coach
Entrepreneurial coach
Life coach
Marketing coach
Retirement coach
And once you've chosen a specialty, you must then decide who your clients will be.  What industry, age, occupation, gender, location, etc. will characterize your ideal client?
What's great about this process is that you get to choose!  No employer is going to tell you that you must work with so and so, or that you must do such and such.  But one secret of success is choosing an appropriately narrow target market and niche – that nonetheless has enough clients to keep your practice full – so that your specialty provides you with an ever-increasing income.

Secret number 5: Get some specific training in the specialty or niche you've chosen.
While theoretically it is possible to become a coach without an education or any training in coaching, there are a number of disadvantages to this approach.  When I go to have my accountant prepare my taxes, or have a surgeon operate on me, I want that person to have the best education and credentials he/she can, don't you?  Your coach training provides you with the knowledge and skills you need to do coaching.  It is a specific skillset, just like any other profession!
One thing that has harmed the coaching profession as much as anything is when trainers, managers, consultants, therapists and others suddenly decide that they will call themselves "coaches" without getting training in coaching.  No wonder our prospective clients are confused, with this occurring on a regular basis!
In my more than 15 years of training coaches, one thing I have noticed is that obtaining coach training has an additional benefit besides providing the coach with the credential they need:  it also increases the coach's confidence exponentially!  Trained coaches will continue learning and growing, but they don't have to constantly be looking over their shoulder to wonder if they're doing it "right" – they'll know they are!
If you are interested in learning to be a career coach, check out our FREE webinar, "4 Keys to Getting Started and Prospering as a Career Coach – in Any Economy – Regardless of Your Prior Experience or Education" here:
https://www.careercoachinstitute.com/4-keys-getting-started
And for full details about our training – for yourself or your staff – please visit https://www.careercoachinstitute.com/training.
There are a lot of coaching schools out there – over 550 at this writing.  A full listing appears here:  http://www.peer.ca/coachingschools.html  So how do you choose?  I recommend that you consider your desired specialty, the school's history and reputation, and other factors as you choose.
WHAT TO DO NEXT
I hope you have found the five principles in this article helpful.  But if you are seriously considering career coaching, I urge you not to stop here.  If you don't yet have a copy of my book, Career Coaching: An Insider's Guide, I invite you to purchase it at Amazon.  This the only step-by-step guide to career coaching that exists, and the foundation for the Career Coach Institute coach training program.  If you later decide to purchase the full career coach training kit or one of our certification programs, the cost of the textbook will be deducted from the tuition.
Our world-renowned Certified Career Coach training and certification program is described here: https://www.careercoachinstitute.com/training – I invite you to learn more and begin your journey to a fulfilling yet financially rewarding career!
As part of my personal commitment to facilitate positive change in the workplace, I and my companies are continually creating new products, services, and programs.  I encourage you to visit our web sites regularly for updates, and to anticipate the arrival of "Monday Motivation" at the beginning of each week.
My sincere wishes for your fulfillment and success.