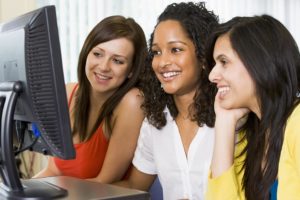 It's easy to keep putting off the decision to actually get trained and certified as a career coach – until "that day" comes when you know you just can't take the job/boss/commute/long hours another day!
My day came when my husband announced that he would be retiring 2 years early…and I was relieved that it gave me a chance to find a new focus that would get me out of the job I so disliked too.
There's no reason to wait any longer.
Being a career coach provides amazing benefits including:
1. Flexibility – no longer are you tied to an 8-5 routine – you can work as much or as little as you like, and the hours that are your natural rhythm! If you want more personal time, have special health needs yourself or are caring for a loved one, you can work your career coaching business around it.
2. Unlimited income – there is literally no limit on your income, as long as you mix active coaching programs along with passive income generation.  And once you move from 1:1 coaching to groups, your time frees up even more!
3. Always in demand – think about the people you know. There are probably at least a handful right now that would change jobs if they could, right? And others you know who have just lost their jobs and need help getting re-employed.  No other specialty has the ongoing demand of career coaching. And as careers and job length shorten, you have many opportunities for repeat clients too!
4. Adapts to any economy – when the economy is strong and there are plenty of jobs, you can help your clients better their pay and/or other benefits. And when the economy is weak, your marketing switches to speed of getting a job (studies show that people who use a career coach get new jobs 40% faster than those who don't).  But that's not all! You can even switch who pays you based on the economy. During the up cycle, your clients can pay you direct. And in the down cycle, you can work with outplacement companies as a contractor, in a workforce or career center, or even with the corporation who's doing the downsizing.  Career coaching rides out recessions better than nearly any other specialty.
5. Meaning and fulfillment – just imagine how it will feel when your client calls or emails you and says "I got a new job – and it's all thanks to you!" Nothing is more fulfilling than helping people better the thing they do most of their waking hours: work.
In addition to these anytime benefits, enrolling toward year end has two other benefits too:
1 – In most cases, your training is tax deductible, so if you want to reduce your taxable income, enroll and pay i full today!
2 – You enjoy a discount of up to $1000 off on the training on our year end special tuition prices.
Click here to get the details on how the program works and the preferred year-end pricing. (And you get a special bonus class when you enroll before Nov. 26, our new Vision 2020 class described here – a $997 value!)
And if you missed a recent webinar, "5 Secrets to Help You Become a Highly Paid, Sought-After Professional Career Coach," you can access the limited time replay here.