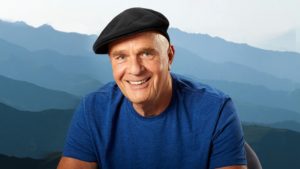 Starting this week, we're going to bring you a little motivation to start your week. After all, most of us seem to struggle a bit with Mondays – so the more positive input we have for the day the better, right?
Tomorrow marks one year since the passing of the great Dr. Wayne Dyer, who had a huge influence on my life. It was his example of packing up his van after leaving his tenured professor job to hit the road and speak that inspired me to sell my law practice years ago (and my house) and embark on my first of several year long national tours sharing my books and seminars. He taught me a lot about manifesting and divine laws – and I so admire him for the spiritual journey he took throughout his life, and all he shared with us.
Here are two quotes I thought were especially inspirational:
"The essential lesson I've learned in life is to just be yourself. Treasure the magnificent being that you are and recognize first and foremost you're not here as a human being only. You're a spiritual being having a human experience."
And:
"Your Highest Self only wants you to be at peace. It does not judge, compare, or demand that you defeat anyone or be better than anyone." — Wayne Dyer
Have a great week!