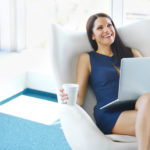 Many life coaches, counselors, wellness coaches and others had a very difficult time in recent years going through the Great Recession.  As people tightened their spending, coaching or consulting was often the first to go. And many coaches, speakers, trainers and others offering so-called "soft skills" services have had no choice but to go out of business.
Conversely, most career coaches came through the economic downturn not only sustaining their client load and income – but often significantly increasing it.  Why?
First, career coaching has a defined end result.  That is, it specifically helps people find new jobs, more fulfiling jobs, better paying jobs or otherwise work that better meets their needs.  And since layoffs inevitably increase during a downturn, more workers are in transition too.
Since adults spend 8 to 10 hours a day (or more!) working, and it is the foundation of their financial supply and livelihood, hiring a career coach only makes sense.  The job market gets tougher during a down economy, and that means more people competing for the same jobs.  According to international outplacement firm Lee Hecht Harrison, professionals who work with a career coach get a new job 40 percent faster than those that don't.
Second, career coaches have multiple markets.  Any coach can market and sell their services to individual clients – and career coaches do that, especially in flat to growing economics.  But only career coaches can also sell to 1) corporate HR departments who are laying people off and want to offer them some transition services, 2) small companies who wouldn't be able to fund typical outplacement but want to help exiting employees with their search, 3) workforce development centers who serve those with disabilities, professionals in transition, and more, 4) outplacement companies whose work dramatically increases during recession and need additional contracted staff members, and 5) college career centers who hire coaches to assist students and graduates with job search.
Third, career coaches can change the focus of their marketing depending on the economy.  When the economy is on the upswing, companies are growing, and jobs are being added, employees want to negotiate their optimum compensation package, but may be afraid to ask for it.  For coaching on negotiation skills and confidence, career coaches can position themselves as the "secret weapon" for the job seeker to optimize his/her compensation including signing bonuses, severance packages and more.
In a declining or flat economy, the person just wants to get a job – any job – to take the pressure off, right?  So the coach can position his/her services with the proven facts that working with a coach speeds up the job acquisition process.
If you are already a career coach, congratulations!  And if you haven't yet committed to that path – or would like to explore adding it to your existing services – check out the Resources tab here at www.careercoachinstitute.com and review our free reports and webinar to give you more information.  You deserve it!